Sunset World Safe Stay ™ is a program based on Mexican health regulations and World Health Organization recommendations and protocols. It was designed by Sunset World to establish actions and processes, including onsite Covid-19 testing, to offer our members and guests a safe stay and a safe return.
BASIC COVID-19 PREVENTION RECOMMENDATIONS
At Sunset World we are always committed to offering the best and safest vacation experience and we are prepared with the best COVID-19 training protocols to protect our members, guests and staff. Furthermore, our Sunset World Safe Stay™ program goes beyond these strict quality controls with more than 150 preventive actions so we can offer a safe environment for everyone.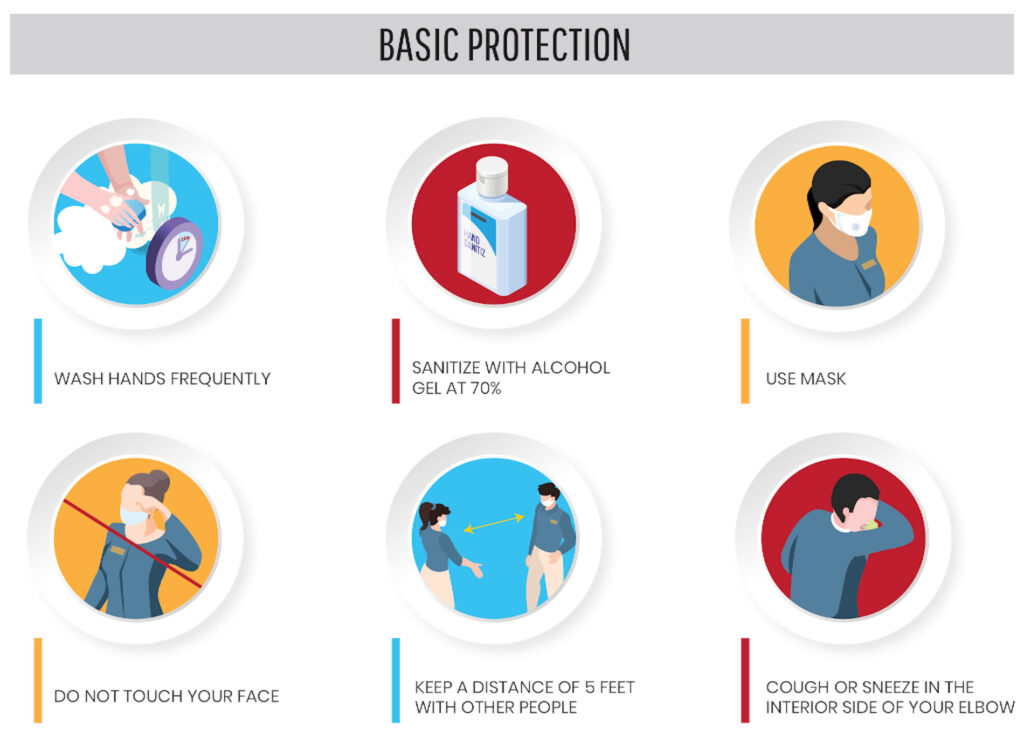 Our collaborators have been trained in COVID-19 protocols according to Mexican regulations and Hygiene, Sanitation and Security Protocol (HSS), to protect themselves and you.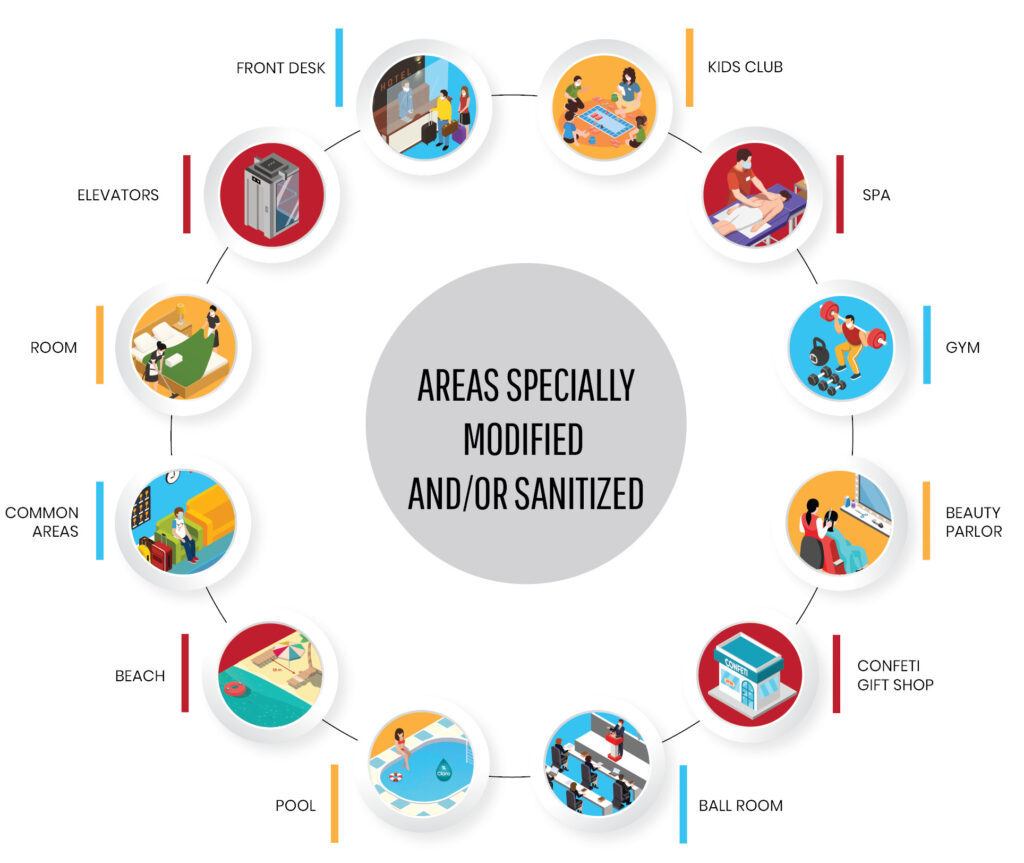 • The circumstances around COVID-19 are continually changing. If you are planning to travel, but have not yet booked, we recommend that you consult national or local travel recommendations.
• If you have already booked your trip do not forget to contact your travel operator, hotel, insurer or travel agency as there may be last minute cancellations or changes.
• Download the Guest Assist App www.guestassist.mx that provides assistance and guidance to national and foreign tourists who visit the state of Quintana Roo in situations that affect their physical integrity or personal property.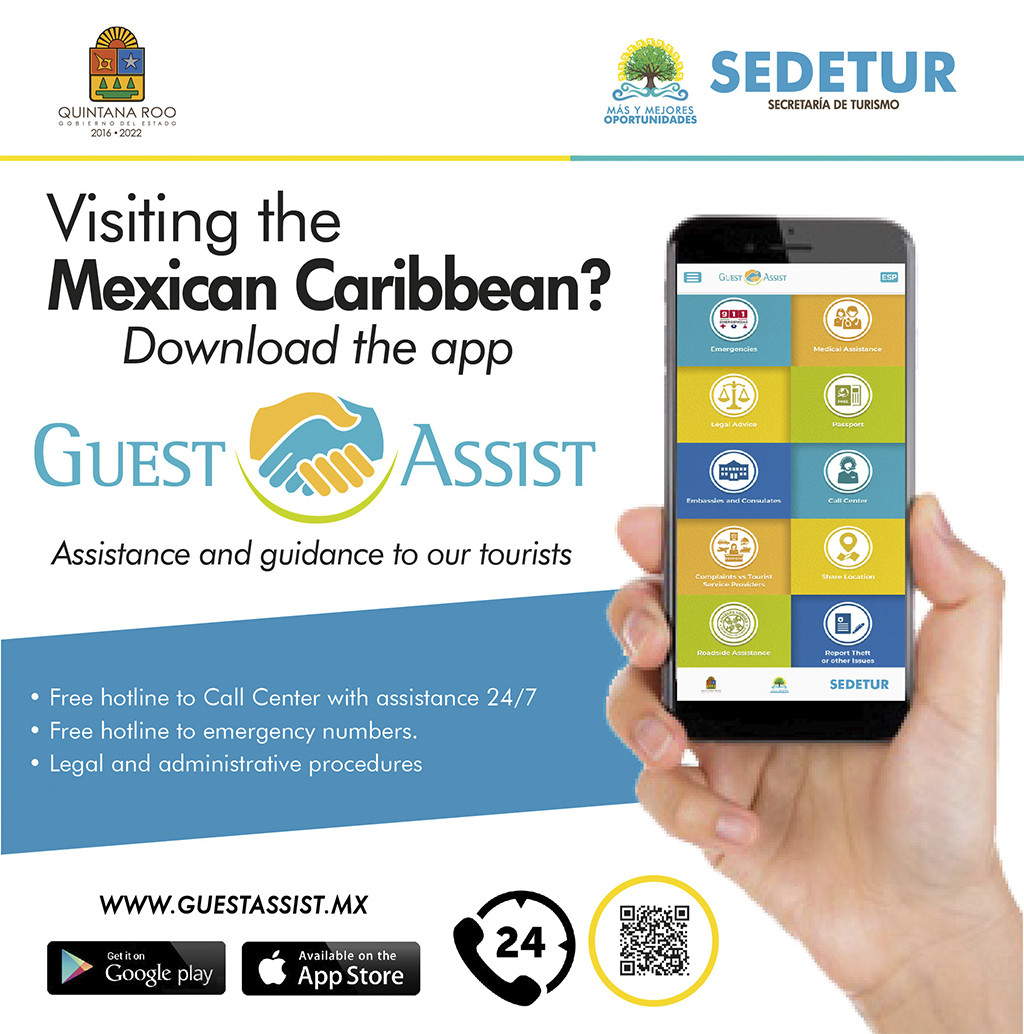 COVID-19 Regulations for International Air Passengers
Sunset World offers onsite testing at Sunset Royal and Hacienda Tres Ríos, making it easy to comply with the following international travel regulations.
The Centers for Disease Control and Prevention (CDC) of the United States expanded the requirement for a negative COVID-19 test to all international air passengers entering the United States, effective since January 26, 2021. The United States joins other countries such as Canada, U.K., Brazil, Argentina, Chile and Colombia with such requirement.
According to the CDC, air passengers entering the United States will be required to present documentation of a negative COVID-19 viral test (called a Qualifying Test) conducted within 3 days before their flight to the United States departs. Documentation should be for a viral test (NAAT or antigen) as approved or authorized by the relevant national authority or proof of recovery.
Test results must state: Negative, SARS-CoV2 RNA Not Detected, SARS-CoV-2 Antigen Not Detected, or COVID-19 Not Detected. "Invalid" results will not be accepted. Documentation may be paper or electronic copy and must include the name and contact information for the laboratory or healthcare personnel who performed the test. Test results may be required to be shown again upon landing.
Alternatively, passengers may provide documentation of having recovered from COVID-19 with test results conducted during the 3 months preceding the flight's departure from a foreign country. Test results must state: Positive, SARS-CoV2 RNA Detected, SARS-CoV-2 Antigen Detected, or COVID-19 Detected. "Invalid" results will not be accepted. Additionally, a letter from a licensed health professional stating that the passenger has been cleared for travel (called Documentation of Recovery) is required. For more information please visit https://www.cdc.gov/quarantine/fr-proof-negative-test.html
For more information about travel restrictions in your country visit the following links:
USA https://www.cdc.gov/
Canada https://travel.gc.ca/travel-covid/travel-restrictions
United https://www.gov.uk/guidance/coronavirus-covid-19-travel-corridors
Argentina https://www.argentina.gob.ar/salud/coronavirus/ingresar-egresar-argentina
Brazil https://guiadelviajero.sre.gob.mx/index.php/103-ficha-de-paises/249-brasil
Bolivia https://www.boliviasegura.gob.bo/covid/#
Colombia https://coronaviruscolombia.gov.co/Covid19/decretos.html
Guatemala https://guiadelviajero.sre.gob.mx/103-ficha-de-paises/259-guatemala
Panama https://visitpanama.com/es/informacion/protocolos-de-viaje/
Peru https://www.gob.pe/8736-coronavirus-informacion-para-viajeros
Paraguay https://embamex.sre.gob.mx/paraguay/index.php/comunicados/73-protocolo-de-ingreso-aparaguay-via-aerea-y-terrestre
COVID-19 Onsite Testing and Stay Guarantee
Safe Return
At Sunset World it's easy to comply with the international travel regulations. Now Sunset World has the support of HHP Laboratory, that research, develops and produces high quality rapid test systems and it is accredited by Mexican health authorities to perform testing for our guests at Sunset Royal and Hacienda Tres Ríos at preferential rates.
Antigen test
$20 USD / $399 MXN
Result delivery: 1 h
PCR Test
$120 USD / $2,400 MXN
Result delivery: 36 h
*Prices may vary according to the exchange rate.
Service schedule: Monday to Saturday 9:00 am to 5:00 pm
Hacienda Tres Ríos and Sunset Royal on site.
Ocean Spa Hotel and Laguna Suites: Tests are done at Sunset Royal hotel.
The Sunset World bus schedule:
Ocean spa: departures at 8:30 am, 10:30 am, 11:30 am and 12:30 pm, returning to Ocean Spa at 10:00 am, 11:00 am, 12:00 pm and 2:00 pm
Laguna Suites: departures at 8:30 am, 9:30 am, 10:30 am, 11:30 am, 1:30 pm, 2:30 pm, 3:30 pm and 4:30 pm, returning to Laguna Suites at 9:15 am, 10:15 am, 11:15 am, 1:15 pm, 2:15 pm, 3:15 pm, 4:15 pm and 5:15 pm
For more information and appointments please contact the Concierge.
What are Sunset World's COVID regulations?
It is our guests' responsibility to follow the basic World Health Organization and COFEPRIS (Federal Commission for Health Risk Protection) protection recommendations:

Wash hands frequently
Sanitize hands with 70% alcohol gel
Wear a mask
Don't touch your face
Maintain a distance of at least 5 feet from other people
Cough or sneeze into your elbow

Guests must answer the Symptom Detection Questionnaire when asked.
The maximum capacity allowed in restaurants, common areas, elevators and transportation must be observed in order to comply with the minimum distance rule.
For your safety we have created the Sunset World app, where you can see the menus from all of our restaurants and order room service from your smart phone.
Our guests cannot be in their rooms during the daily cleaning and sanitizing service.
Avoid touching high contact surfaces as much as possible, such as handrails, tables, bars and counters.
The spa can be used individually or in family group with a reservation. The gym is closed until further notice.
Sunset World Group assumes that our members and guests have evaluated their risk of disease transmission when traveling during this time and is not responsible for COVID-19 transmission within our facilities.
If you have symptoms like a headache, fever, dry cough or exhaustion, we suggest you reschedule your trip. The amount of your reservation is not reimbursable however it will be applied to a future visit.
Any interactions you may have with other guests or employees are at your own risk.
Guests traveling with people considered to be part of a vulnerable group must be extra cautious. Vulnerable groups include, but are not limited to, people over 60 years old, people with special needs, those with a pre existing medical condition, those with chronic diseases or lung problems, moderate or severe asthma, a heart condition, obesity, diabetes, kidney disease, liver problems, pregnant women or those who require dialysis.
If you have symptoms like a headache, fever, dry cough or exhaustion while you are staying in one of our hotels, please inform the Front Desk immediately. We have a protocol in place to assist you.
Will the check-in be as it was before the pandemic?
At the resort the check-in process is basically the same. The only difference is that basic protection is required during check-in and there is a protection screen between the front desk personnel and guests.
According to many countries' new regulations for international air passengers, we recommend you visit the concierge right after you check-in to make an appointment for a COVID-19 test within three days of your return flight.
What cleaning measures were taken?
The Sunset World Safe Stay™ program covers all of our facilities, including facilities, services and experiences, with more than 150 health and safety actions.
What steps are you taking to protect your staff?
The mandatory use of masks, gloves and face shields, hand washing or disinfection with gel and social distancing of at least 1.5 meters. In addition, each department has been trained in specific preventive measures that include additional protective equipment if the nature of their duties requires it.
What happens if I don't pass the temperature check at check-in?
It is unlikely that you could arrive to the hotel without passing through some other sanitary filter, at airports for example, that detects an elevated temperature. If this happens, you will be assigned a room in a section of the hotel for these cases and we will proceed with the medical protocol to confirm or rule out Covid-19.
Will there be face masks available for guests?
From reception to amenities kits in your room, and different areas of the hotel, there will always be face masks, gloves and sanitizing gel available to you.
How will the activities in Tres Ríos Natural Park operate?
Normally, as long as general preventive measures such as small group tours and healthy distancing are strictly observed. In addition, the equipment necessary for the activities is disinfected before and after each use.
Please bring your own personal snorkel equipment. If you do not have snorkel equipment, it is available for purchase at the Confeti Gift Shop.
Is there a buffet? Will I be able to serve myself as many times as I want?
Yes, our buffet is available with the following guidelines:
-The service is provided by a waiter, there is no self-service available.
-You can choose the available dishes as many times as you want.
-Food is protected by acrylic screens.
-The restaurant capacity was reduced to provide a healthy distance between tables.
Are the rooms cleaned in a special way?
Yes, housekeeping has had meticulous training from experts to clean and disinfect the rooms properly daily.
How often will they be disinfecting the common areas?
• Common areas are cleaned and disinfected every hour.
• The cleaning and disinfection of swimming pools is more frequent.
• Furniture in common areas has been placed a minimum of 1.5 m apart.
What certificates do you have for visitor safety?
We have the WTTC Safe Travels seal that certifies that our company has implemented the strict prevention and hygiene measures recommended by different world health authorities so that its clients have a "safe trip", we also have the Health Protection and Prevention in Tourist Facilities of the Ministry of Health and Assistance certification. In addition, all Sunset World hotels have the Distintivo H certification from the Ministry of Health and Assistance and the Ministry of Tourism.
How can I change my visit date or cancel?
Please contact the Reservations Department or the Member Services Department:
Reservations:
USA 1 866 760 1842
Canada 1 800 896 1243
Mexico 01 800 913 4927
Colombia 01 800 913 4927
Rest of the world +52 998 881 8750
Whatsapp +52 998 342 7166
Member Services Department:
MEX 01 800 262 8964
USA & CANADA 1 800 906 4396
Should I buy Travel Insurance?
We do recommend you buy travel insurance, making sure that it contains coverage for COVID-19 related incidents. Should you need travel insurance, you can ask your reservation agent for more information.